About this listing
About this Toyota Land Cruiser Prado Sport Utility Vehicle / Jeep Rental in Enugu, Nigeria

This Toyota Land Cruiser Prado is a 5-Passenger, beautiful Luxury Sport Utility Vehicle (SUV). It has everything you need such as Bluetooth, AM/FM radio and other safety features. Confidently make your booking today!

Chauffeured driven 4 Doors, 5 Passenger Sport Utility Vehicle / Jeep / Truck
Automatic Transmission
Dual Climate Zones and Climate Control
---
Transmission: Automatic
Car Type: SUV
Fuel Type: Petrol
Seating Capacity: 7
Mileage: 33000
Make: Toyota
Model: Toyota Prado
Year: 2014
Doors: 4
---
---
---
---
In general, the following are the key terms of our chauffeur-driven, air-conditioned car hire services:

Our car hire rates are published on our website

This car comes with a trustworthy chauffeur as part of the rental.

You are responsible for cost of fueling the vehicle during your use.

OUT OF TOWN SURCHARGES – Use of the vehicle outside of its base will attract an additional surcharge.
+ More
---
Similar Listings
With leg room for five or more, extra storage space and improved fuel economy, this 2018 Ford Explorer can be an idea car rental option. Make your next journey both manageable and memorable with the comforts provided by this Ford Explorer! Learn More
Enugu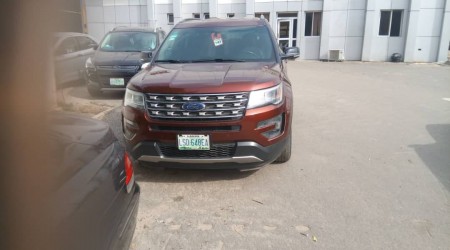 This 2018 Ford Edge ranks in the middle of the midsize SUV class. It has a spacious cabin and a composed ride. Pros & Cons * Two potent engine options * Spacious cabin * Intuitive infotainment system Learn More
Enugu